Minecraft. A game where the only limit is your imagination—and the computational power of your gaming rig, of course. Whether you're a seasoned adventurer or a newbie just getting your feet wet (hopefully not in lava), the world of Minecraft seeds offers endless possibilities for exploration and creativity. But with so many seeds out there, how do you pick the best ones? Fear not, for we've done the legwork for you.
Here are the top 5 Minecraft seeds you absolutely must explore. Buckle up; it's going to be a blocky ride.
How to use Minecraft Seeds
Minecraft Seeds are a string of numbers that generate an entirely random world for you. Before you create a new world with Minecraft, you can concoct your own random seed, just basically putting in a series of random numbers, to ensure the world you're going to enter is completely random.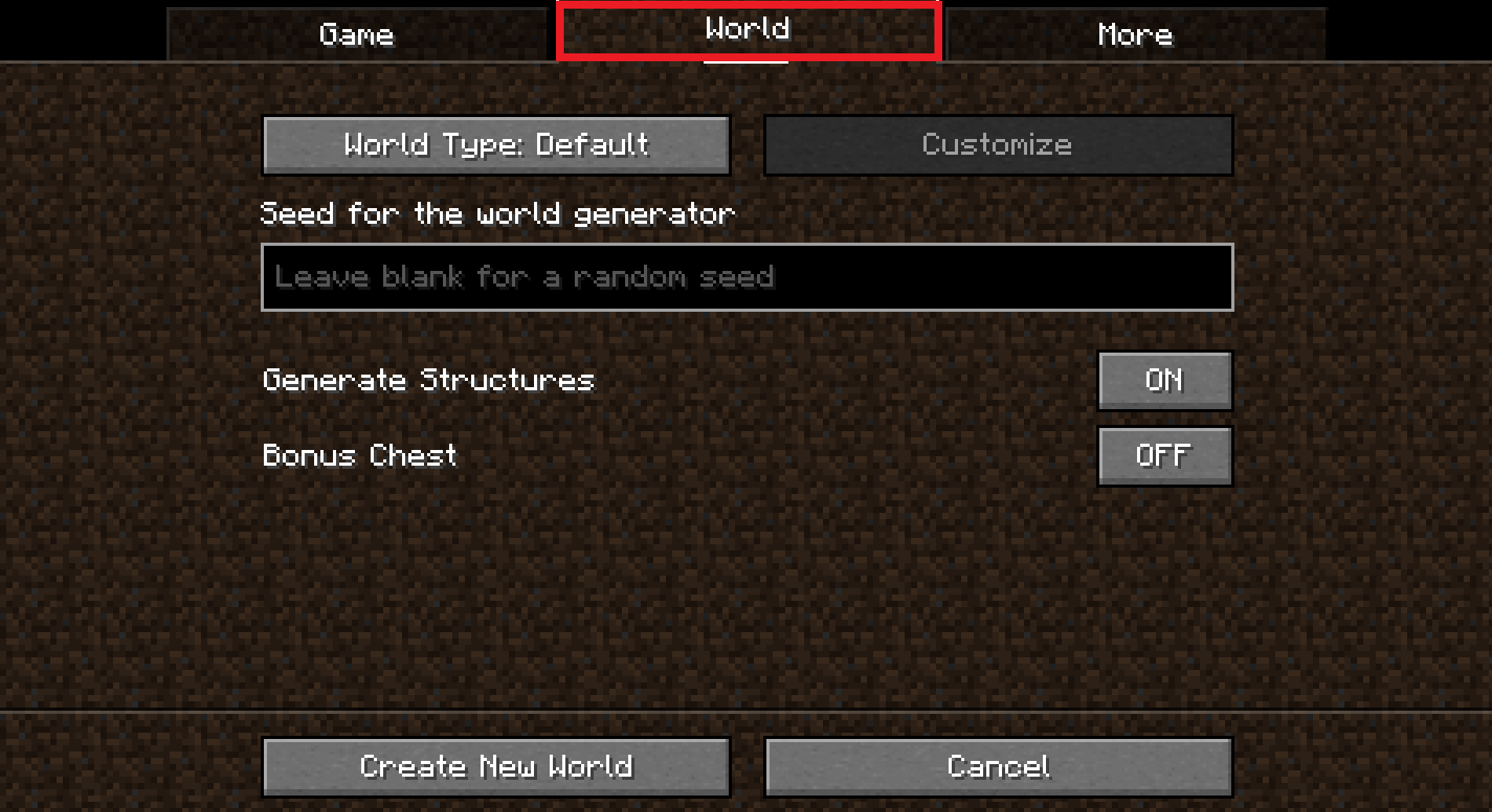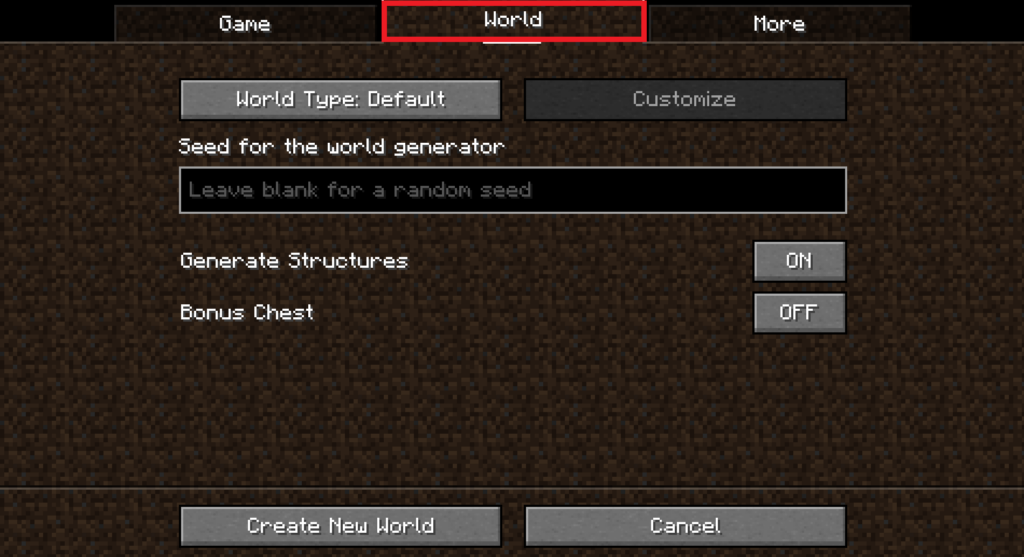 All you need to do is click 'More World Options' in the menu when creating a world in Minecraft and a 'Seed for the world generator' dialog will appear, allowing you to enter a random seed.
Below, we have compiled some of the best seeds Minecraft users have found and you can load these into your seed generator and go on a mission inside these maps.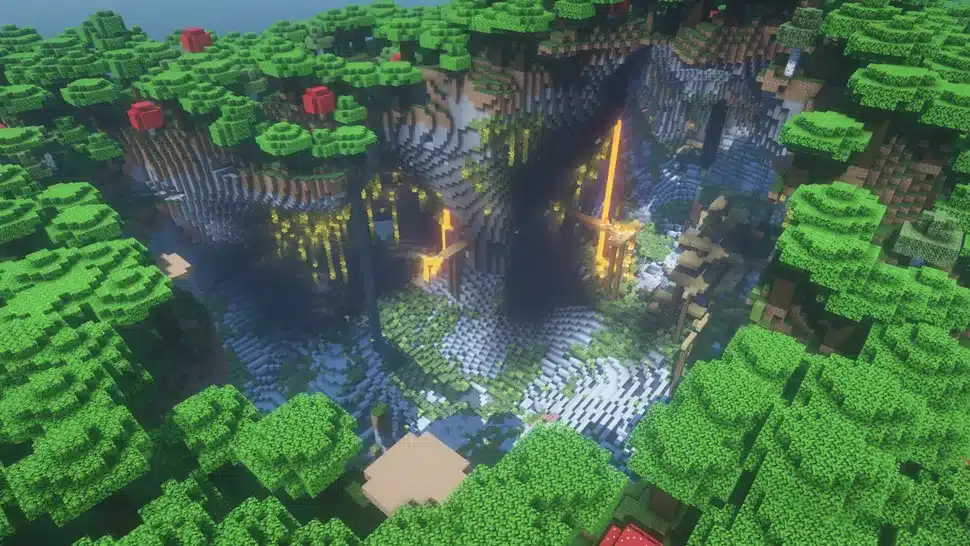 1. Exposed Lush Cave with Mineshaft
Seed: 199
Version: 1.20
Coordinates: [-5900, 100, -5100]
Overview
Imagine a lush cave so grand it has its own skylight. Now, add a mineshaft poking out into it. That's what you get with this seed. Located at coordinates -5900, 100, -5100, this seed is a builder's paradise and an explorer's dream.
Why It's Special
The cave is situated in the middle of a giant dark forest, providing ample resources for building. The exposed lush cave itself is a marvel, offering a unique blend of natural beauty and industrial charm thanks to the mineshaft.
It's like Mother Nature and a steampunk engineer had a baby, and this cave is their offspring.
Gameplay Tips
Resource Gathering: The dark forest around the cave is rich in wood and other materials. Stock up before you venture deep.
Exploration: The mineshaft could contain valuable resources but beware of cave spiders.
Building: The skylights in the cave provide natural lighting, making it an ideal location for an underground base.
We highly recommend this map, it's absolutely huge and buzzing to explore.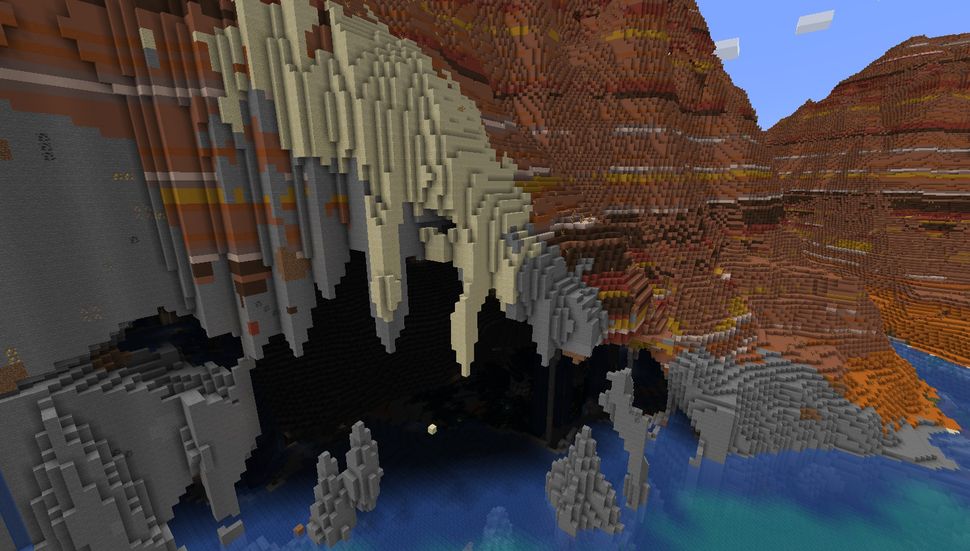 2. Cherry Blossom Ringed Valley with Lake
Seed: -6182176112093490089
Version: 1.20
Coordinates: [12037, 109, 1383]
Overview
If you're looking for a seed that screams "Instagram-worthy," this is it. Located at coordinates 12037, 109, 1383, this seed features a stunning lake valley surrounded by cherry blossom trees.
Why It's Special
The cherry blossom ringed valley is the epitome of tranquillity. It's the perfect setting for a hidden village or a lakeside resort. The aesthetic appeal is off the charts, and the sense of peace it offers is unparalleled.
Gameplay Tips
Resource Gathering: Cherry blossom wood is not just pretty; it's also a unique building material.
Exploration: The lake could hold hidden underwater treasures.
Building: Consider constructing a Japanese-style village or a luxury lakeside resort.
Another beautiful seed that will enable hours of endless fun for you in Minecraft.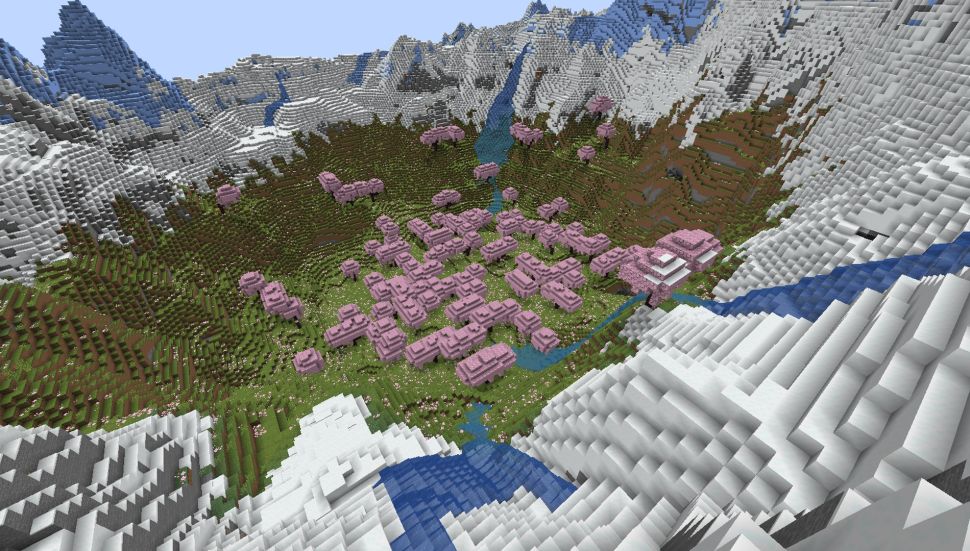 3. Deep Dark Towering Badlands
Seed: -6182176112093490089
Version: 1.20
This isn't your run-of-the-mill badlands biome. It's a towering, awe-inspiring landscape that will make you feel like you've stepped into a post-apocalyptic movie.
Why It's Special
From cascading stone waterfalls to massive toothy cave entrances leading to the deep dark, this seed offers a plethora of powerful sights. It's a place where you can feel both the beauty and the brutality of nature.
Gameplay Tips
Resource Gathering: Badlands are rich in terracotta and gold. Mine to your heart's content.
Exploration: The deep dark caves are not for the faint-hearted but offer rare resources.
Building: The towering cliffs are an excellent location for a fortress or a cliffside villa.
You will need to set aside a full day to explore this awesome map generated from the seed above!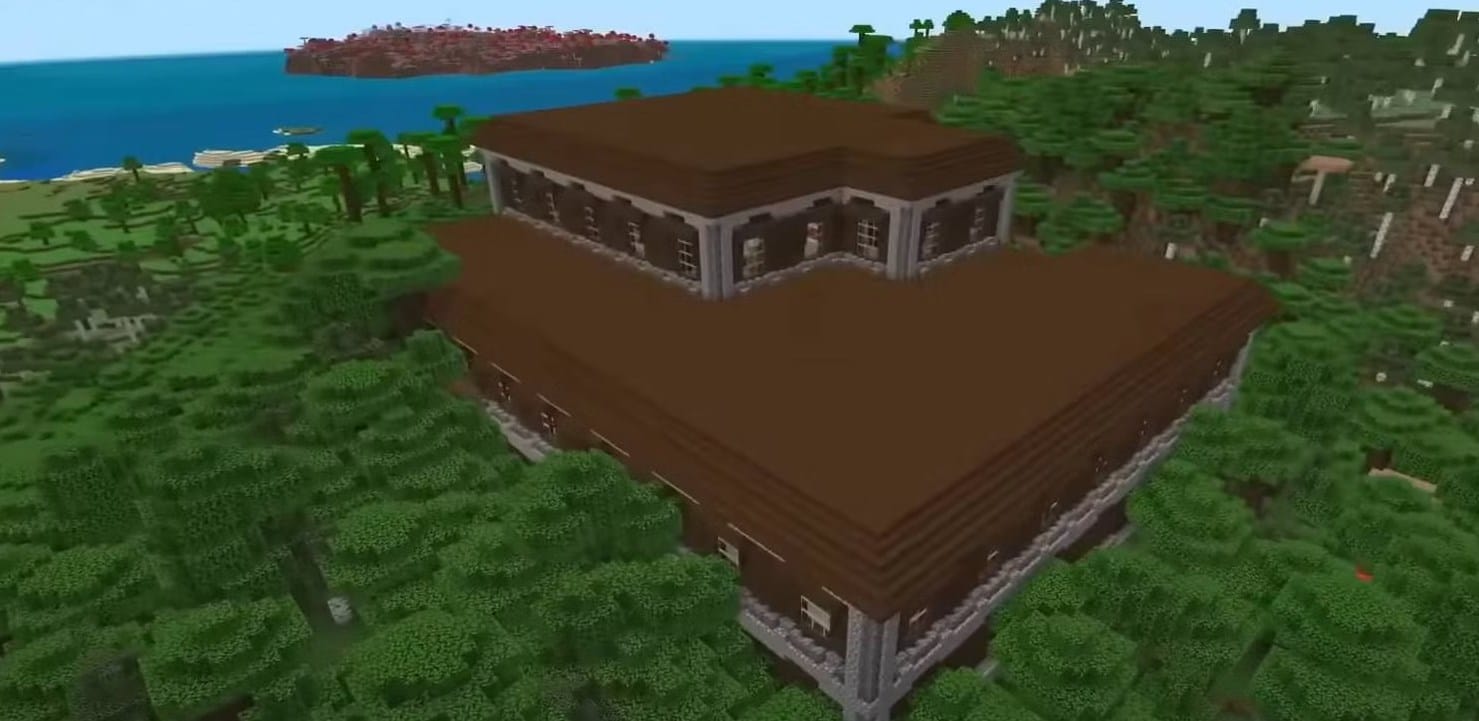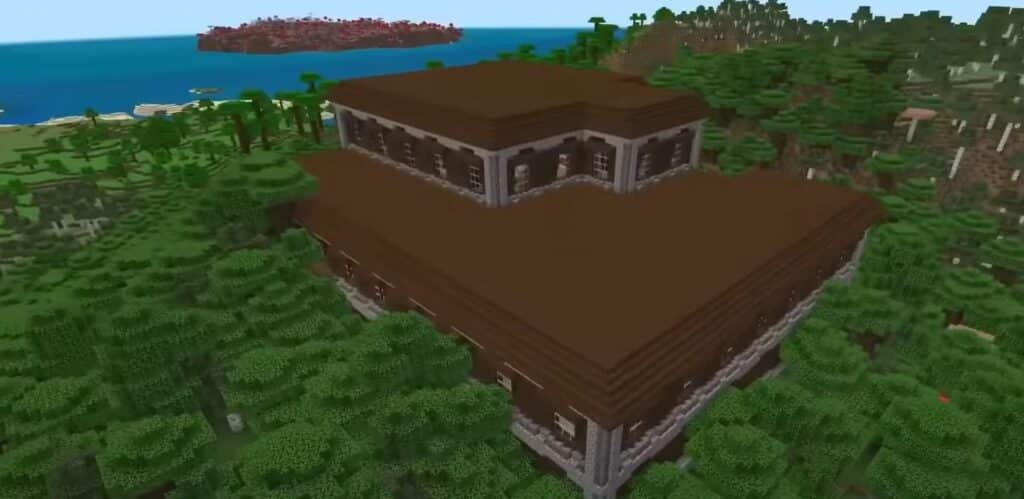 4. Mansion in the Woods
Seed: -1565193744994431296
Overview
Picture this: You spawn directly on top of a mansion, surrounded by a dense forest teeming with every type of tree you could imagine. It's like being handed the keys to a woodland palace, and all you have to do is walk in.
Why It's Special
This seed is a woodcutter's dream. The forest offers a variety of wood types, making it a versatile location for crafting. But that's not all; there's a village nearby with a stronghold beneath it. This means you're just a few steps away from reaching The End—literally.
Gameplay Tips
Resource Gathering: The forest is your one-stop-shop for all types of wood. Stock up.
Exploration: The stronghold under the village is a gateway to The End. Prepare adequately before venturing.
Building: The mansion offers a ready-made structure for you to renovate or expand upon.
This is definitely worth generating the seed for. It will provide you with countless hours of Minecraft exploration.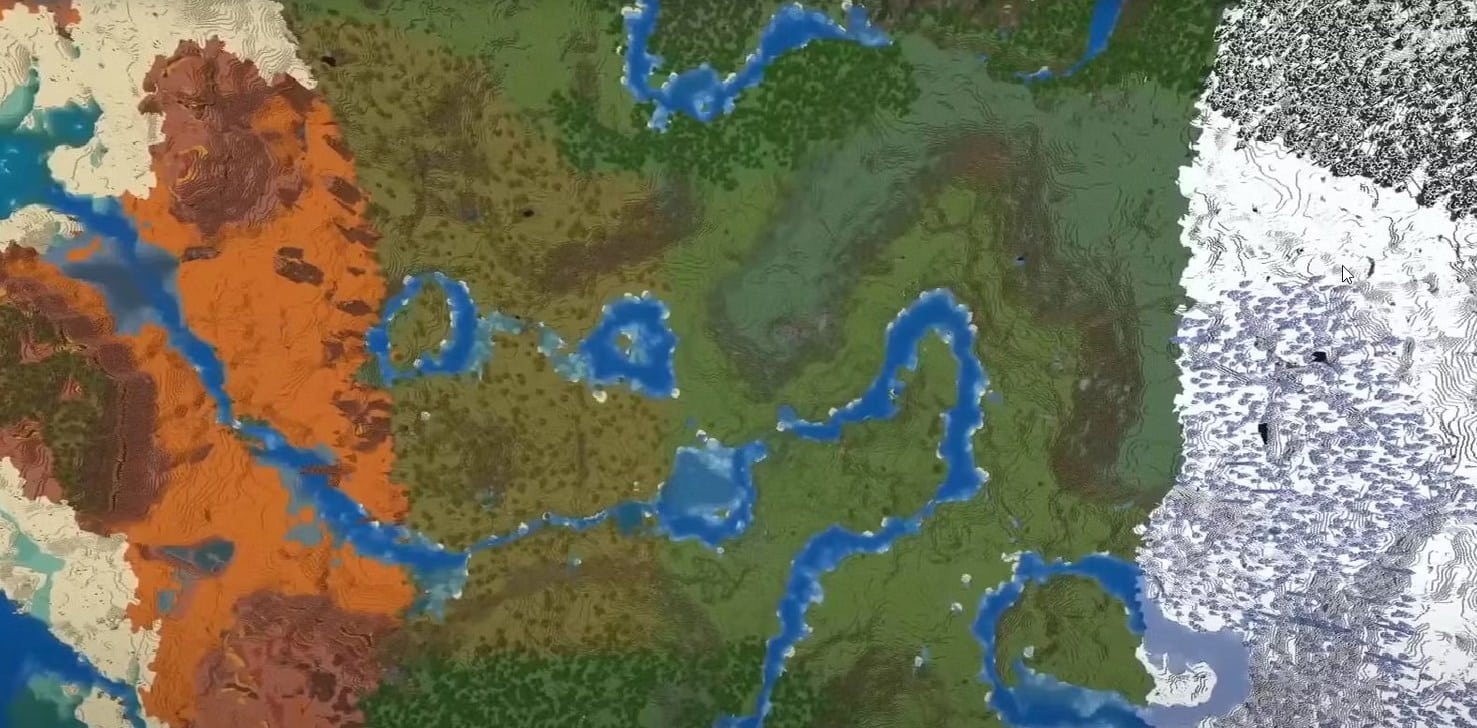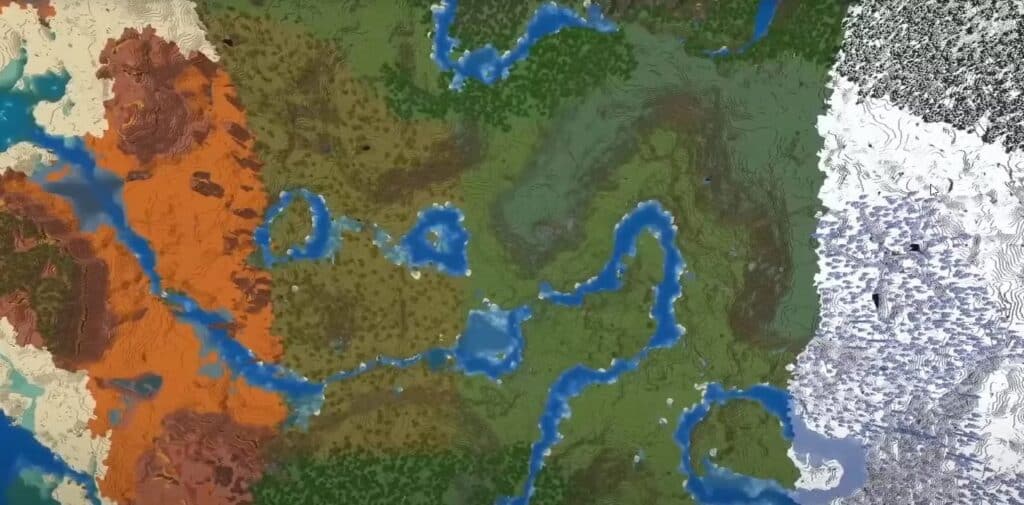 5. Biome Buffet: Sand and Ice
Seed: 320191849765261
Overview
Imagine a world where the desert badlands and snowy mountain ranges are neighbours. This seed offers a sharp contrast in biomes, separated by a mere 600 blocks, making it a landscape photographer's dream—or nightmare, depending on how you look at it.
Why It's Special
The juxtaposition of the hot desert and the cold mountains creates a unique environment for exploration. The seed also features meadows and plains, along with two Dripstone Caverns that are rich in resources from iron to diamonds.
Gameplay Tips
Resource Gathering: The Dripstone Caverns are a treasure trove. Don't miss out.
Exploration: The contrasting biomes offer a variety of landscapes to explore and capture.
Building: With such diverse biomes, you have the freedom to build structures that blend in or stand out.
A complete abstract generated map. Well worth the visit.
Found a better seed?
If you have generated or found a better seed than any of these, then please feel free to email us and we'll check it out and maybe add it to the list!
There are a gazillion number of seeds that can be generated with Minecraft and that's what makes it such a special game. The random nature of the generated worlds and then the fact you can tear those worlds up and shape them how you want is something we won't see in another game for a long time.
The Magic Behind Minecraft Seeds: A Deep Dive into Random Generation
Minecraft's world generation is a marvel of computer science, specifically in the field of random number generation. When you create a new world in Minecraft, the game uses a "seed" to generate the terrain, biomes, structures, and even the placement of resources. This seed is a string of numbers that acts as a formula for the game's procedural generation algorithms. But how does this all work? Let's dig in.
The Science of Randomness
In computer science, generating "random" numbers isn't as straightforward as it might seem. Computers follow instructions to the letter, which means they're deterministic by nature. To generate a random number, algorithms use a seed as a starting point. From there, they perform a series of mathematical operations to produce a sequence of numbers that appear random.
However, the same seed will always produce the same "random" sequence, which is why Minecraft worlds can be recreated using their seeds.
The Role of Seeds in Minecraft
In Minecraft, the seed serves as the foundation for the world generation algorithm. It dictates everything from the height of the mountains to the depth of the oceans. Even the locations of various biomes and structures like villages, temples, and fortresses are determined by the seed.
This is why certain seeds are famous for their unique landscapes, rare formations, or high concentrations of valuable resources.
Gameplay Implications
Understanding how seeds work can significantly impact your gameplay. For instance, if you're interested in a survival challenge, you might opt for a seed that spawns you in a resource-scarce desert or a monster-infested jungle. On the other hand, if you're more of a casual player looking for a serene environment to build your dream mansion, a seed with a peaceful meadow or a picturesque mountain range might be more up your alley.
Procedural Generation vs. Hand-Crafted Worlds
One of the most fascinating aspects of Minecraft seeds is how they compare to hand-crafted game worlds. In many video games, designers meticulously plan every inch of the world, but Minecraft's procedural generation ensures that no two worlds are exactly alike (unless they share the same seed, of course). This offers endless replay-ability, as each new seed presents a wholly unique set of challenges and opportunities.
The Art of Seed Hunting: A Community Endeavor
Seed hunting is not just a solo adventure; it's a community endeavour.
Players from around the globe share intriguing seeds they've discovered, complete with coordinates for points of interest like villages, dungeons, and rare geological formations. Websites, forums, and even YouTube channels are dedicated to showcasing these seeds, turning seed hunting into a collective quest for the most extraordinary Minecraft worlds.
The Thrill of Discovery
There's a unique thrill in discovering a seed that offers something truly special, be it a floating island, a massive coral reef, or a village teetering on the edge of a ravine. These discoveries often become community legends, shared and explored by players worldwide. Some seeds gain notoriety for their beauty, while others are infamous for their challenges, like survival islands with limited resources.
The Role of Data Mining and Algorithms
The Minecraft community takes seed hunting to the next level by employing data mining techniques and algorithms to find seeds with specific characteristics. For example, some players use software to sift through thousands of seeds to find one with a particular biome layout or resource distribution. This high-tech approach to seed hunting has led to the discovery of some of the game's most iconic seeds.
The Social Aspect
Sharing and exploring seeds is a social activity that brings the Minecraft community closer.
Players collaborate to uncover the secrets of newly discovered seeds, often leading to exciting community events like speed-runs or building competitions. In this way, seed hunting serves as a catalyst for community engagement, making it an integral part of the Minecraft experience.